NOTE FROM MET POLICE: DRINKING IN OUR QUEUES IS NOT ALLOWED.
ANYONE FOUND TO BE DRINKING ALCOHOL IN THE QUEUE WILL BE DENIED ENTRY TO THE DOGSTAR.
To ensure the safety and security of our customers, and on advice from the licencing authority and the police, we use ID scan technology on our door. This has led to a 90% decrease in petty crime within the venue.
To effectively use this technology we ask all visitors on Friday and Saturday nights, regardless of their age or appearance to provide ID before entry.
Accepted forms of ID are Passports, Drivers Licences and ID bearing the Pass hologram. Most overseas ID's are also accepted.
We are happy to look after passports for anyone worried about losing them and also provide a free cloakroom service for bags
Those unable to provide accepted ID on weekends will unfortunately not be able to enter the venue.
Dogstar do not, and will never use your information for marketing, sale or any other purpose other than security at the venue. Data is stored offline on site and is deleted every 6 months.
We do store information on people banned from the premises for a period defined by management at the time of the ban. We will also keep a detailed record of the reasons for the ban and in extreme cases we will make the ban available to other venues using the ID scan system, for example in cases of assault or theft. This information is only available to other ID scan systems once the ID in question has been scanned on the system and is never shared elsewhere.
The ID scanner is provided by IDscan biometrics and only senior management and the head of security at the venue have the authority to access data on the machine or issue bans. In the same fashion as CCTV data we will share ID scan information with the police upon request from a senior officer.
By volunteering your ID on entry you are agreeing to these terms
Door staff on the weekends do not have the authority to allow anybody into the venue without the correct ID
Only people over the age of 18 are allowed in the venue after 6pm.
No Flip Flops or Slippers allowed after 10pm.
For more information check out the IDscan website or to ask us a question call us on: 02077337515
Smut Slam: Crash & Burn
13 February @ 7:30 pm

-

10:30 pm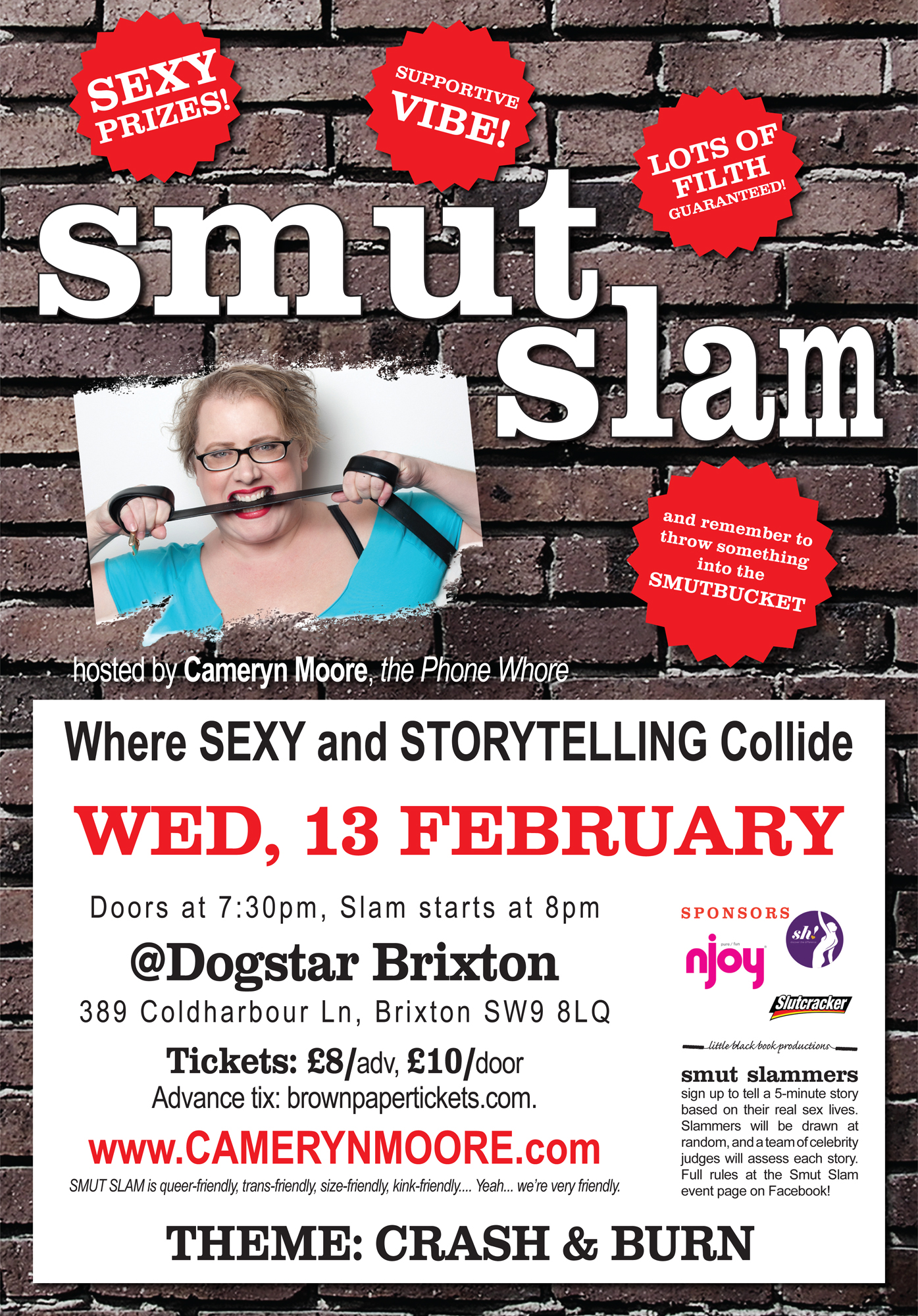 Smut Slam London: bringing you the finest in fucking fiascos since 2017!
Wound up about Valentine's Day? Don't worry. This February 13th, London's only dirty storytelling open mic–based on real life, real lust, real sex–will give you the antidote for all the sap at the Dogstar in Brixton (389 Coldharbour Ln, SW9 8LQ). The theme for this SMUT SLAM is "CRASH & BURN." Bring us your worst, with all the guts and the glory; we are strapped in and ready!
Tickets: £8/adv, £10/door
Advance tickets: https://www.brownpapertickets.com/event/4044738
The Smut Slam features real-life, first-person sex stories, guest stories from our panel of celebrity judges, and also THE FUCKBUCKET, a convenient and funnily named receptacle for all your anonymous questions and confessions!
CELEBRITY JUDGE PANEL TBA
**** FUCKBUCKET PRIZE PROVIDED BY Njoy, long-time sponsor of Smut Slams and other Cameryn Moore events
**** TELLING PRIZES PROVIDED BY Sh! Women's Erotic Emporium (Hoxton) ; their name says "quiet," but their products may make you really really LOUD!
SMUT SLAMMERS sign up on the night to tell a 5-minute dirty story, based on their real lives, and a lucky eight to ten names will be drawn at random.
RULES: – no notes (this is storytelling) – no costumes or props (this is not theatre) – only five minutes (with a one-minute grace period) AND – the story must be real and have happened to you.
IMPORTANT: Smut Slam is queer-friendly, kink- AND vanilla-friendly, fat-friendly, virgin-friendly, polyamory-friendly, sex-worker-friendly… we're really, really friendly. We welcome people with all types and amounts of sexual experiences. We DO NOT welcome stories involving racism, sexism, homophobia, transphobia or any other kind of discrimination, objectification, or fetishization. All stories must be CONSENSUAL!
NOT A SMUT SLAMMER? Dont worry. The audience is in for a good time at SMUT SLAM! Sit back and enjoy. All we ask is: – No interrupting. – No heckling. – No necking. Doors at 7:30pm, and the smut starts slamming at 8.