NOTE FROM MET POLICE: DRINKING IN OUR QUEUES IS NOT ALLOWED.
ANYONE FOUND TO BE DRINKING ALCOHOL IN THE QUEUE WILL BE DENIED ENTRY TO THE DOGSTAR.
To ensure the safety and security of our customers, and on advice from the licencing authority and the police, we use ID scan technology on our door. This has led to a 90% decrease in petty crime within the venue.
To effectively use this technology we ask all visitors on Friday and Saturday nights, regardless of their age or appearance to provide ID before entry.
Accepted forms of ID are Passports, Drivers Licences and ID bearing the Pass hologram. Most overseas ID's are also accepted.
We are happy to look after passports for anyone worried about losing them and also provide a free cloakroom service for bags
Those unable to provide accepted ID on weekends will unfortunately not be able to enter the venue.
Dogstar do not, and will never use your information for marketing, sale or any other purpose other than security at the venue. Data is stored offline on site and is deleted every 6 months.
We do store information on people banned from the premises for a period defined by management at the time of the ban. We will also keep a detailed record of the reasons for the ban and in extreme cases we will make the ban available to other venues using the ID scan system, for example in cases of assault or theft. This information is only available to other ID scan systems once the ID in question has been scanned on the system and is never shared elsewhere.
The ID scanner is provided by IDscan biometrics and only senior management and the head of security at the venue have the authority to access data on the machine or issue bans. In the same fashion as CCTV data we will share ID scan information with the police upon request from a senior officer.
By volunteering your ID on entry you are agreeing to these terms
Door staff on the weekends do not have the authority to allow anybody into the venue without the correct ID
Only people over the age of 18 are allowed in the venue after 6pm.
No Flip Flops or Slippers allowed after 10pm.
For more information check out the IDscan website or to ask us a question call us on: 02077337515
DESTINATION: SUMMER SOLSTICE PARTY
28 June @ 10:00 pm

-

4:00 am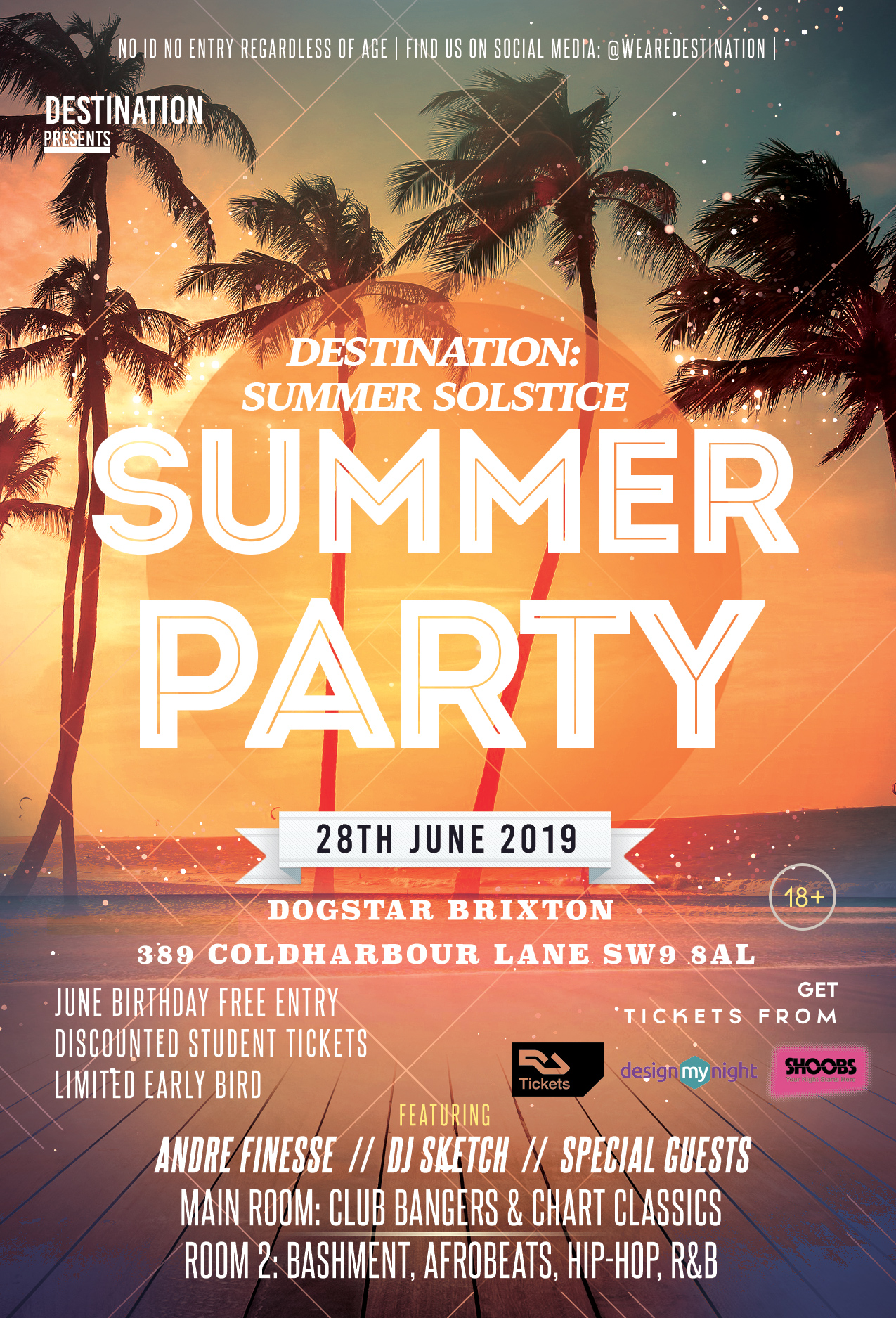 FOLLOWING ON FROM OUR SPRING EQUINOX PARTY, DESTINATION RETURNS FOR OUR SUMMER SOLSTICE PARTY
The most fun party you will attend this summer, and the second of four amazing events this year!
Welcome to DESTINATION: SUMMER SOLSTICE at DOGSTAR BRIXTON. The second of four seasonal events this year.
Enter our summer beach themed rooms, filled with inflatables, confetti (because of course), neon paint and popcorn. This night is not to be missed.
———————————————————————
MUSIC POLICY 🎧
ROOM 1: IBIZA ANTHEMS, ELECTRO HOUSE and CLUB BANGERS and more
ROOM 2: BASHMENT, URBAN, GARAGE, AFROBEATS and more
SPECIAL GUEST DJ'S ALONGSIDE DESTINATION RESIDENT DJ ANDRE FINESSE ACROSS THE YEAR!
———————————————————————
TICKETS 🎫 >>>> https://bit.ly/2YcbPq2
AVAILABLE FROM ALL MAJOR TICKET WEBSITES
Limited £1 Super Early Bird
Limited Early Bird entry and Queue Jump with NUS Card (Must bring valid NUS card matching your ID, 1 PER PERSON)
Standard Tickets to be announced // More on the door
FREE ENTRY IF YOUR BIRTHDAY IS BETWEEN JUNE 17TH – JUNE 30TH (Email theprodevents@gmail.com to get on the birthday list)
Email theprodevents@gmail.com for Table Bookings in Room 1
———————————————————————
SOCIALS:🤳
Follow us on socials for event updates
facebook.com/WeAreDestination
Instagram: TPOEvents
Twitter: @TPOEvents
———————————————————————
LOCATION & TRAVEL 🚌
Dogstar Brixton,389 Coldharbour Ln, Brixton, London SW9 8LQ
Tube: Brixton Tube Station
Bus: Brixton has some of the best night buses, going south, east, north and west.
Cabs: Uber or use local can service Brixton Minicab
020 7223 2888
Dogstar is only a two minute walk away from Brixton tube and train station.
———————————————————————
ENTRY POLICY ❌
– 18+
– Valid ID with a PASS sign. No ID, no entry (Must bring physical copy, a photograph of ID will be rejected)
– No tracksuits or open back shoes
– Last entry 3am (Special offer ticket last entry varies)
– No drinking outside the venue, anyone drinking alcohol or attempting to bring alcohol into the venue will have it confiscated.