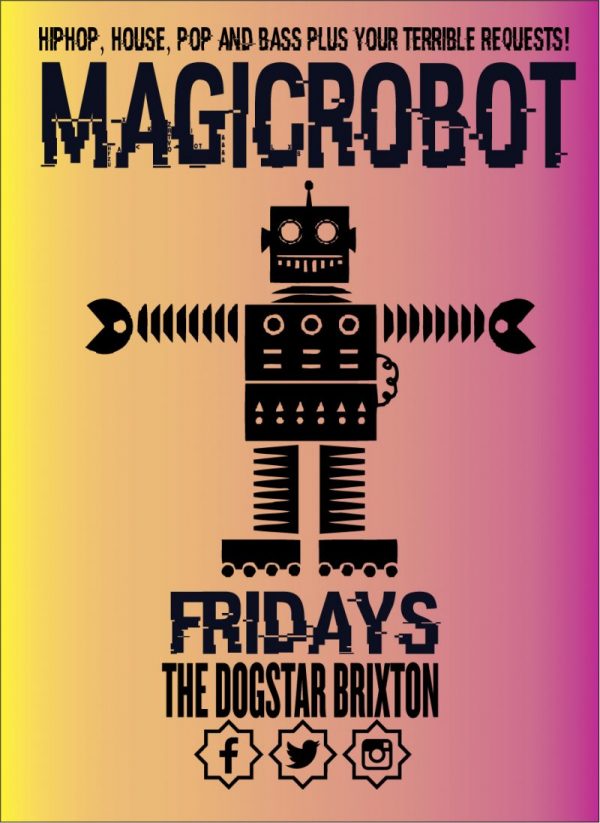 Friday 5 January - 10:00 pm - 4:00 am
THE MAGIC ROBOT IS A FRIDAYS-UPGRADED-COMPLETE-KILLER-INTERACTIVE-NO-GIMICK AWESOME NIGHT.
WITHOUT A SHADOW OF A DOUBT THE DESTINATION FOR ALL YOU PARTY ANIMALS IN BRIXTON ON A FRIDAY.
– BIRTHDAY PARTIES ARE WELCOME
– WE GOT PARTY-CENTRIC HIP HOP, FUNK, SOUL, DISCO, THE NEW HITS, OLD FAVOURITES AND ALL OF YOUR TERRIBLE REQUESTS.
10PM-4AM FREE BEFORE 10PM, A MEAGRE £5 AFTER!
FOR ANY FRIDAY OR SATURDAY RESERVED AREA, BOOTH OR TABLE ENQUIRIES PLEASE GET IN TOUCH VIA: DOGSTAR@ANTICLONDON.COM
For free entry Guest list and queue jump, use the form on this event's page
Guest list tips, please read me before applying!:
Chose how many spaces you would like to apply for on the dropdown menu on this event's page.
Add your guests names in the fields provided, and your details at the end. Your friends names will apear under the name you used to register under 'Your Name'.
Our guest list is limited, and popular! We will need the names of everyone that is coming with you, to be fair to everyone else.
Consequently Lists with "+1" or "TBC" etc will not be accepted.
This is an application for guest list, your list is only confirmed when you receive the conformation email. Do check your junk email folder if you can't see this; we usually get to all applications within 24 hours.
Don't bother applying on the night… We are already partying!
Bookings are closed for this event.