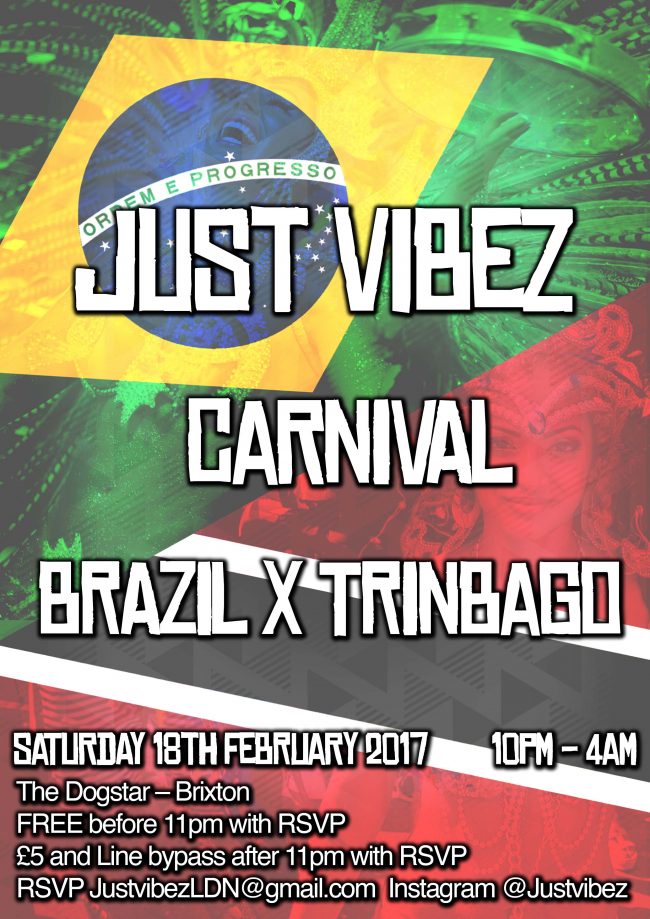 Saturday 18 February - 10:00 pm
JUST VIBEZ
CARNIVAL
Celebrating the Carnivals of Brazil and Trinidad and Tobago!
Feb 2017 is CARNIVAL for both Trinidad and Tobago and Brazil so we are celebrating in London as only JUST VIBEZ can!
We have assembled an amazing line up of Djs, mcs and singers from TnT, Brazil and the UK to give Brixton and London a taste of the tunes and vibez that will ring out in Port of Spain, Rio de Janeiro, Salvador and Pernambuco! If you are heading to south for Carnival or staying in London this is the fete for you! Come down to Just Vibez at the famous Dogstar celebrating 22 years this year in the heart of Brixton!
Line up includes
Agatha Saan (Live from Brazil)
DJ Raskal (Pure Lime Carnival)
Vendetta Sound (Abir Mas band)
Dan Bean (Pon d scene)
DJ Mr General (Iconic Pleasures)
Chico Urbanus (Sao Paulo WLFC)
Hosted by Trinigladiata