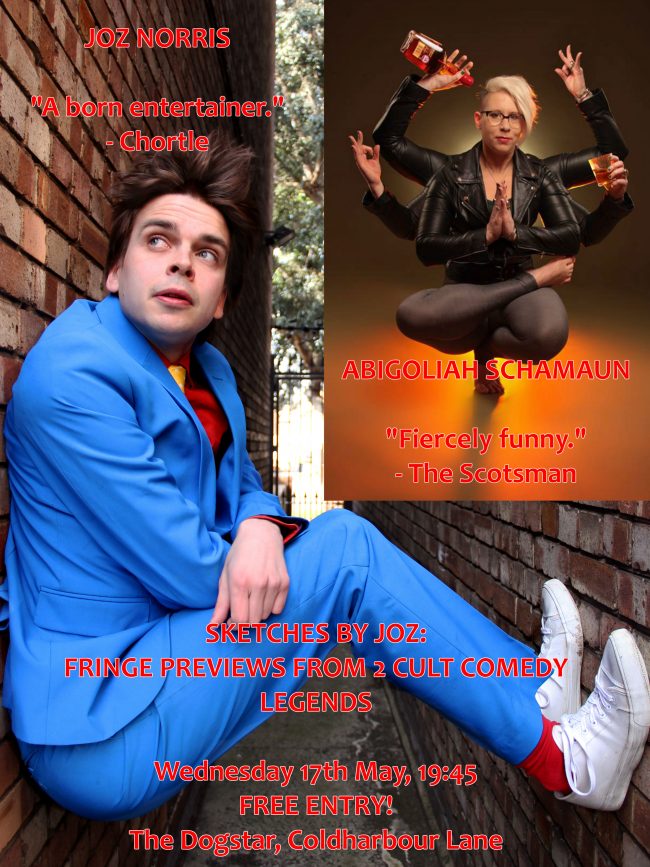 Wednesday 17 May - 7:45 pm
FRINGE PREVIEWS FROM 2 CULT COMEDY LEGENDS
ABIGOLIAH SCHAMAUN!
What's the point in pursuing enlightenment when you could just put your feet up & knock back a bourbon? And what passes for happiness these days? Abigoliah is a certified Bikram Yoga instructor; she's run marathons and Tough Mudders, participated in Crossfit competitions… why would she bother when you're just as likely to find those sweet endorphins at the bottom of a pint glass? She dissects mankind's relationship with wellness and happiness; a show for anyone who's paused on a treadmill or over a shot glass and wondered "wait…what am I doing?".
"Fiercely Funny'" The Scotsman
***** To-Do List
***** Three Weeks
**** Skinny
***** Arts Award Voice
THE INCREDIBLE JOZ NORRIS LOCKS HIMSELF INSIDE HIS OWN SHOW, THEN ESCAPES, AGAINST ALL THE ODDS!!
Last year I saw Jason Donovan alone onstage singing to a backing track and suddenly it dawned on me why I do all this. You perform to hide in plain sight and build your own cage. If it's good enough for the Elephant Man then it's good enough for me, and for all of us, actually. It can't always be about me.
BBC Radio 4. Channel 4. ITV 2. Dave. Weirdos. ACMS. Judge Rinder.
'An absolute idiot… Simple, silly and screamingly funny' (Fest)
'A born entertainer and great comedy writer' (Chortle)
'Fastidiously avoids boring or obvious choices and excels at being unselfconsciously daft' (TVBomb)